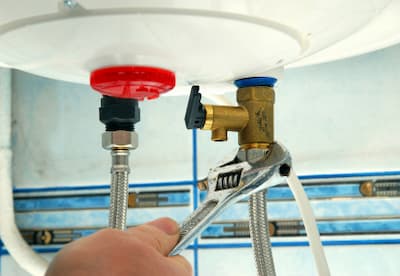 Water heaters and boilers, like any other mechanical system, are subject to wear and tear—which may sometimes escalate to the point where you have no option other than to replace them. If your commercial property in Atlanta is experiencing water heater or boiler issues, you can trust the experts at ACAPX, LLC to provide top tier water heater & boiler replacement services.
ACAPX, LLC operates under one fundamental principle: to ensure total customer satisfaction. We employ several efficient tactics to ensure that our customers get the services they pay for. For instance, we have a polished workforce consisting of some of the most experienced commercial plumbers in the industry.
You may question the relevancy of replacing your water heater and/or boiler when it seems like it just needs repair or maintenance. It is worth noting that if you are having specific problems it could be best if you just bought a new device, as repairing the current one could turn out to be more expensive. You should consider:
Age
Water heaters and boilers are not lifelong investments. Most of them will last for between 15 to 20 years, and after that, they require mandatory replacement. If you continue to use your water heater or boiler past this timeframe, you will find yourself incurring frequent repair costs that will turn out to be more expensive than a replacement. If your device is outdated, do not hesitate to call us today.
Energy Efficiency
You may be using an outdated boiler or water heater that is consuming more energy than normal, which makes you incur extra energy costs. If this is the case, then it's time for you to get a new water heater.
Costly Repairs
You may encounter instances when repairing your water heater isn't a feasible option, especially when repairs are too costly. When this happens, the best alternative would be to seek our water heater and boiler replacement services. Our experts will recommend the best solutions for either water heaters or boilers based on your budget and situation.
ACAPX, LLC is here to ensure your commercial property is running smoothly by taking care of your water heater and boiler replacement needs. Make the call today for a no obligation estimate.
We Are Experts At Water Heater Replacement
Our experts are well trained and will do a fantastic job when handling your water heater & boiler replacement or plumbing repairs. We also strive to stay one step ahead of our competitors to ensure that we stand apart from the crowd and that you have a viable reason to hire us for all your water heater and boiler replacement needs.
Boiler Replacement - Completed By Professionals
There isn't an Atlanta commercial plumber that offers the type of professionalism the team at ACAPX, LLC offers commercial property owners. Our specialists can guarantee that your boiler will continue to perform at its best and save you from high energy bills. We make sure that your equipment is in perfect condition and working as productively as possible!
Boilers can be a very efficient approach to heating your Atlanta commercial property. Many commercial establishments may not use a boiler, but those who do can utilize them for a long time as long as they are in good service and in good condition. Calling in an expert for consistent maintenance is the ideal approach to ensure the longest and best possible life of your boiler. However if your boiler is due for a replacement, then ACAPX, LLC is the right company to do the job. Give us a call to find out about our boiler replacement service.
---
Recent Articles & Tips
Should I Purchase A New Boiler

Boilers are an essential part of everyday business operation. However, an old or worn out boiler can be a big problem if not properly cared for. Boilers that aren't maintained regularly can pose a se […]

Reasons Why Your Kitchen Or Bathroom Drain May Be Clogged

Clogged drains are terrible. Not only are they a major inconvenience, but a clogged drain can cause bacteria and odor issues that are disgusting. Clogged drains are a nuisance that every business own […]